I love to dine out! Aside from the fact of having a lot of choices of foods when dining out, it's hassle-less for me in preparing foods and keeping the kitchen in place after eating.
One of the restaurant that I keep on coming back just to eat is the Banana Leaf in Ayala Center Cebu. Their food are really like strangers to hear but when tried and tasted, very delicious.
But as much as my tummy calls, I still can't eat rightfully using the literal banana leaf when eating.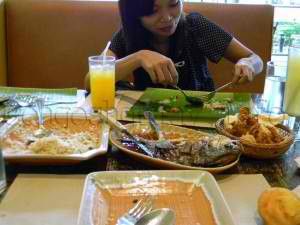 My classmate eating using banana leaf as plate
Though using the real literal banana leaf as a plate is very economical and environment-friendly, I guess, I still am feeling awkward using it.
Nevertheless, banana leaf foodies are really yummy!