One Thursday noon, I and my classmate, Ernhez, had a time to dine out in Savory Restaurant. We're actually getting very hungry that time and since when we check and found out Savory has no crowding people there, we just opt to have had a seat there.
Healthy foods, undoubtedly, are what each of us are always wanting to gulp. Upon looking at the menu of the said restaurant, Malunggay Canton is looking yummy, healthy and very delicious. With no hesitations, we immediately ordered one serving for the two of us.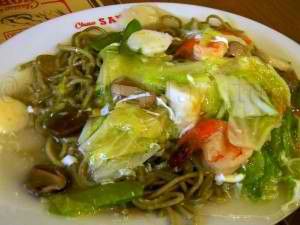 My classmate is not picky in terms of foodies for as long as it's looking clean and well-prepared. But me, I honestly share, I am very choosy and much moody in all of my food tastes even at home. This actually one reason why my classmate just allow me to choose any food that was good tasting and inviting in my eyes.
Actually, for the two of us, it was the very first time to see a Malunggay Canton. The canton strips itself are looking so weird, though. It's not the usually yellowish whitish color hues of any cantons but a greenish brownish with dark green dots on it. According to one of the restaurant's crews, the greenish blackish dots are some parts of the pounded Malunggay leaves to powdery texture.
Nonetheless, the canton was really really mouth-watering.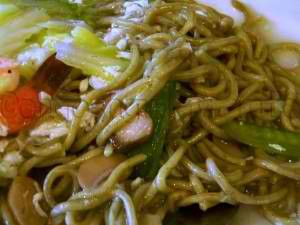 Happy Healthy and Yummy Sunday everyone!