I seldom eat shrimps and other crustaceans because I always suffer hypersensitivity every time I eat any from them. But if I crave, a tablet or two of an anti-histamine are never forgotten to take before I got a bite of the really mouth-watering shrimp platter.
Moreover, I am very thankful for the hospital canteen staff for preparing this 4-piece shrimp platter. We really had a sumptuous lunch. Though I really experienced swelling of the lips and itchiness over my arms after consuming 2 shrimps because I totally forgot to take anti-histamines before our lunch and because I didn't anticipate to have this bunch of lunch that time. But the signs didn't worsen. After I took 2 medicines, the itchiness and swelling subsided then.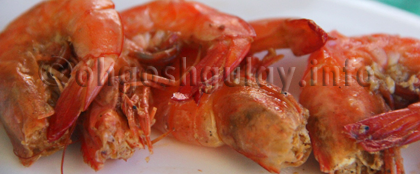 4-Piece Shrimp Platter
Nonetheless, the lunch we had was really gastronomic plus the momentous laughs and chats we had.