Sweet treats sometimes make the best gifts. You can purchase a gift with candy or make your own candy gift baskets for all occasions, such as holidays and birthdays. Items that are used can be color-coordinated to match the occasion or the gender and age of the recipient. Most of the items that you need to complete the basket can be found at a crafts store or at a retail store. Try to stock up on items when they are on clearance if you plan on making several throughout the year. Don't get candy until it's needed as it can melt and lose some of its flavor over time.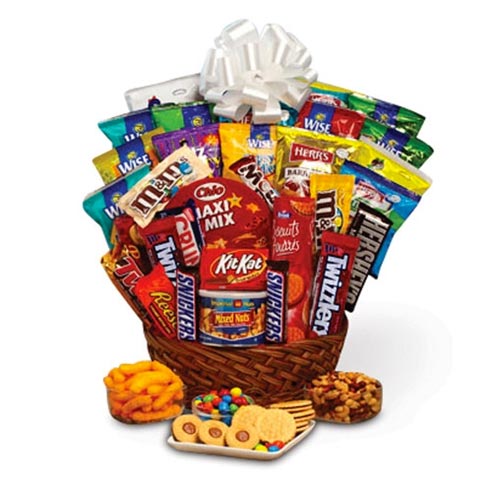 If the basket is for a birthday, find out what kind of candy the person likes. Try to find candies that are wrapped in a favorite color. If you can't then wrap the candies in construction paper with a message on the outside. You could get items that are personalized to send a special greeting. A candy basket for children for a birthday could include a few other items as well, such as a small stuffed animal or a small toy.
A fun idea would be to use a soda glass to hold the candies that you choose. A Styrofoam ball can be used as the base to hold all of the items that you include. Bubble gum, Tootsie Rolls and other items of a similar size can be used with this idea. After the candies are attached and placed in the glass, then you can add a straw and a red pom-pom to make it look like a sundae.
When you're making a basket for holidays, you want to get decorations that are for that occasion, such as pumpkins for Halloween or hearts for Valentine's Day. Choose candies of different sizes that reflect the holiday. They could be items that are sold in stores specifically for that event or items that remind someone of that time of year, such as a pumpkin roll or candy canes. Before delivering the basket, attach a card onto a curled ribbon as a simple salutation.