What keeps me busy the past days would surely make me fat. It's just very simple – as simple as practicing and perfecting the art of steaming. It's not the usual steaming of foods, I could say. But rather steaming cakes, cupcakes and other bakeable goodies because honestly I do not have the luxury of conduction ovens to make baking easier. I am just making use the best possible way I could with my incredibly big steamer.
So my first project here in our little den which I already tried some at home in the province, is the steamed banana loaf. At home in the province, I also used steam to cook the loaf but it was just an improvised one – with the use of a very huge cooking pot, I put in large stones and arranged those that somehow could provide a flat surface for the loaf pan; gushed a liter or two of water and brought water to a boil.
Anyway, here's how I prepared and made of my banana loaf which I took from Yummy.ph. But I omit some of the ingredients because I was too lazy to look for one. LOL. I sifted 2 and ¼ all-purpose flour in a mixing bowl and added with sifted 1 and ½ teaspoons baking soda as well as ¼ teaspoon salt. I've added a cup of dark brown sugar and ½ cup of white sugar. I made sure to mix all these dry ingredients. In a separate mixing bowl, I whisked 1 ½ cups unsalted butter, 3 large eggs and a teaspoon full of vanilla extract. I set aside the two different mixtures while I was mashing 2 cups of sweet ripe bananas. In this case I used La-katan banana. After mashing that banana, I slowly added the flour mixture in the butter mixture alternating with the mashed banana until totally mixed making sure no lumps of air are present.
This time around, I made sure that the water in the steamer was boiling. So now, since I do not have a loaf pan here, I made use of the puto molds which I greased with a butter and filled with the batter mixture. I steamed the bread for 40 minutes but you can also steam it earlier after checking the center of the loaf using a toothpick.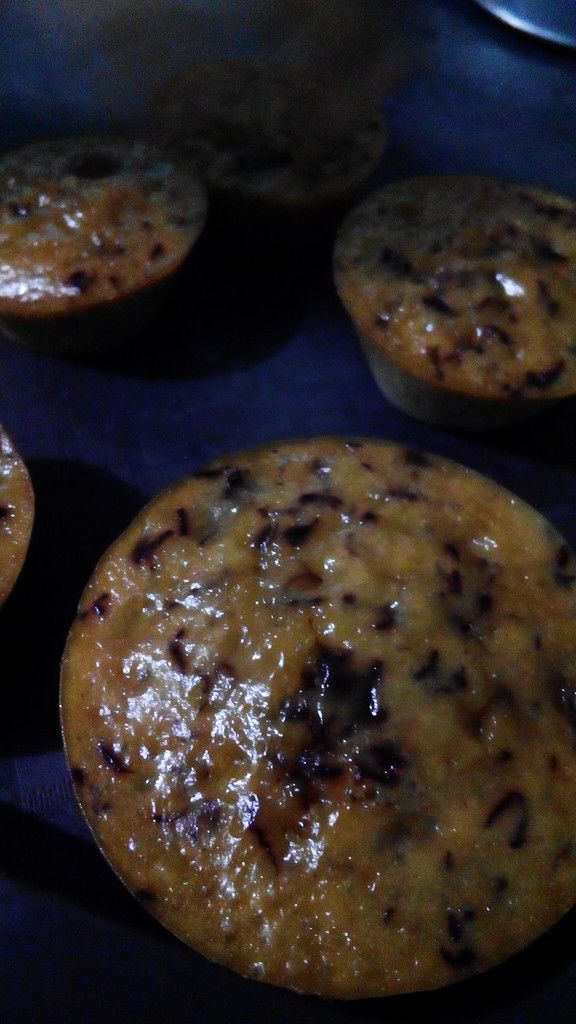 That's it! It's just so simple. Hope you guys can try this out – a healthy snack at home, steamed banana loaf.