Since I moved here in my new "dwelling place", I already missed eating buffet meals in any hotels. One reason is that, I am not familiar with the place I am in now and I am also afraid to lure the city by myself alone. So basically, I have no other kitchen and tables to eat at but only fast food chains.
This morning, when I was browsing over my files, I intentionally look back at those gluttonous eats I had before especially in Cebu City. Telling you guys, Cebu City is top among thee, should I say, "foodie places" I ever been to. One of the foods I missed from there are baked scallops.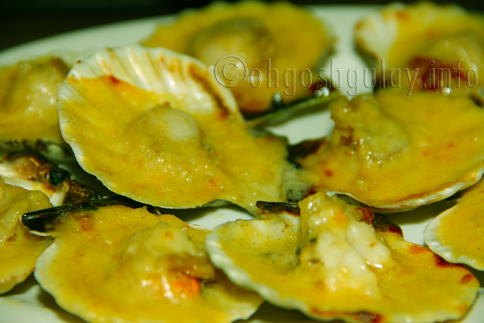 Baked Scallops
Would you like to know where I usually had a plate of baked scallops in Cebu City? Oh noh!, never mind asking because I am pretty sure you might be amazed. LOL! Well, I am a very big fan of buffet meals, as I have mentioned earlier. I've been to different food stops and hotels in Cebu City where buffet meals are offered.
Isn't that baked scallops really delightful?