Experimenting with my oven and other kitchen stuff is such a fun thing especially when things turned out right. So far, I got no failed experiments yet or maybe, my boys who used to be my critics are just that biased as to them, all of my baked goodies really tasted the best and that I need to bake more of these and those. Nothing, actually, became left overs for them.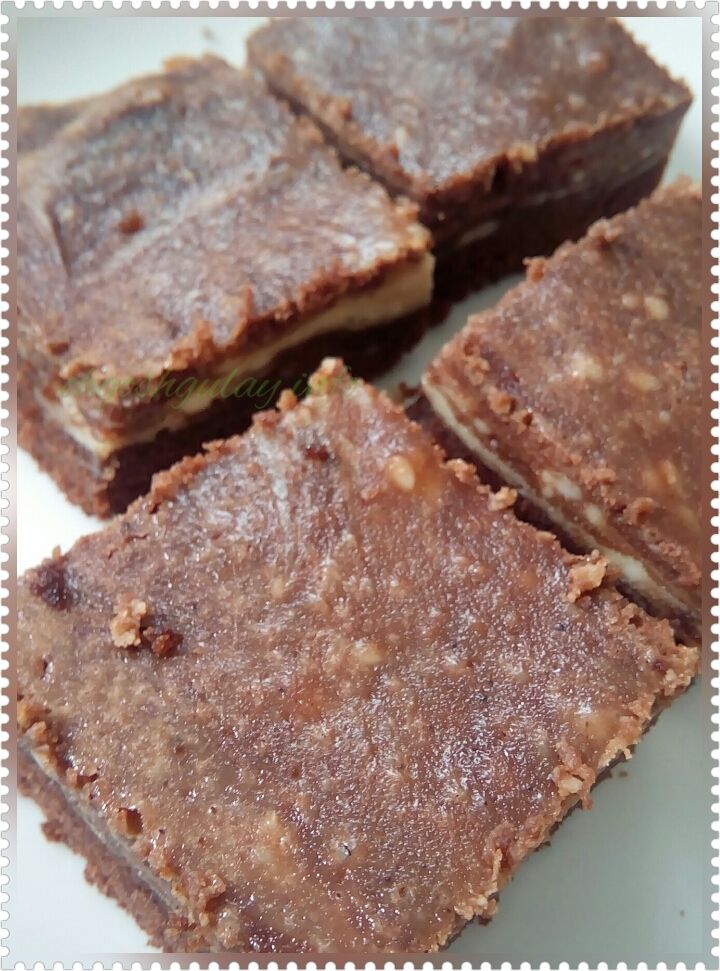 My hubby really loves the moistness, chewiness and crusty brownies I used to bake for him. But with the cream cheese available in the fridge, I surprised him with the combination of chocolate brownie added with a swirl of cream cheese.
Here's how I baked it.
I, first, prepared the oven; preheated it to 350 degrees Fahrenheit. Then I lined my 8×8 square baking pan with parchment paper. I did not grease it anymore, but you may opt to do it. After having my oven and pans ready, I started mixing my ingredients. Using a bowl of my standing mixer, I creamed the ½ cup of softened (take note, not melted, but rather softened) margarine and 1 cup of granulated brown sugar. Once incorporated, I added one by one the two large eggs and made sure to beat well. After which, I added ¾ cup of cocoa powder and 1 teaspoon of vanilla extract and again, made sure to mix well and set this aside.
This is how the Chocolate Brownie batter would look like.
Using another bowl and a handheld mixer, or if you only have one mixer, you can use the same you used when making the batter but make sure to clean and dry the paddle before using, I creamed the 8 oz of softened at room temperature the cream cheese, 1 large egg, 4 tablespoon sugar and 1 teaspoon vanilla extract until well-combined. With the sugar, you can add more depending on your preference.
This is how the Cream Cheese filling would look like.
After preparing the two above, I poured the ¾ part of the batter into the pan and spread the cream cheese filling on the top of the batter layer and dollop the remaining ¼ part of the batter on top of the cream cheese filling using a spatula and swirl into the cream cheese mixture.
I then baked the brownies for about 30 minutes. But you can check until fully cooked. This should be cooled completely before cutting and serving, but in my case, only 1/3 of the baked Chocolate Brownie Cheesecake Swirl was left because my little man could not resist the mouth-watering and really drooling slices of this one.
Sure thing this will also happen to you if you try to bake one.
You can find more Sweet Treats of mine in my Sweet Treats by Gagay Facebook page.
Enjoy baking!!!