I've been craving for pancit lately. And even thought of preparing one. Ahihi!
But I am not really that confident to prepare foods, though I know how, I am just ashamed to show to how and even to let you try some. Haha!
Since I still am having here my Yummy magazine, June 2011 issue, I browsed again the pancit bihon which I marked "a must try to prepare at home". But laziness strike my butt again. I, instead, bought pancit bihon for myself then. LOL!
But off course, I don't want to keep the recipe for myself. I wanna share it to you.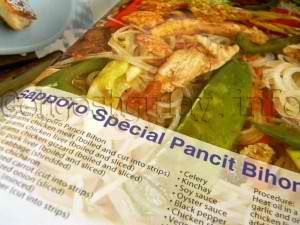 Ingredients:
250 grams Sapporo Pancit Bihon
100 grams chicken meat (boiled and cut into strips)
150 grans chicken liver (boiled and sliced)
150 grams chicken gizzard (boiled and sliced)
1/4 kilo pork liver (boiled and sliced)
1/2 kilo cabbage (shredded)
200 grams chicharon
Medium-sized carrot (cut into strips)
1 medium-sized onion (sliced)
5 cloves garlic (minced)
Green bell pepper (cut into strips)
Celery
Kinchay
Soy Sauce
Oyster Sauce
Black Pepper
Chicken stock
Vegetable Oil
Water
Chicharo
Calamansi

Procedure:
Heat oil in a large wok or pot and saute garlic and onions. Add the chicken strips, chicken liver, pork liver and gizzard. Then add in the vegetable ingredients in the following order: chicharo, carrots, cabbage, bell pepper, celery and kinchay. Season with soy sauce and oyster sauce. Mix in water, chicken stock then the Sapporo Pancit Bihon. Add more water or chicken stock, if desired. Stir continuously until all ingredients are cooked.Top with chicharon when serving.
You might be wondering that there's pork in the recipe even though I don't eat such. Yes! There really is. If you read the whole of this article, you'll know why.
Happy cooking!
Opps! I just want to make it clear that the above recipe was taken from Yummy Magazine, June 2011 Issue. The photos/images posted where taken by the owner of this site from her hard copy of the said magazine. This post doesn't mean that the owner receives any compensation from any of the above mentioned companies. This is solely the owner's choice to post and share this recipe thru this blog.